There are already 13 permission options now organized in a dedicated section.
​
Moderating functions activated also for comments You can now delete, undelete, approve, unapprove, move and copy comments using the moderation checkbox/moderator's toolbar
Enhanced comments deleting. You can use the same functions for deleting comments as for regular replies. You can remove the comment from public view, permanently delete it and also notify the author.​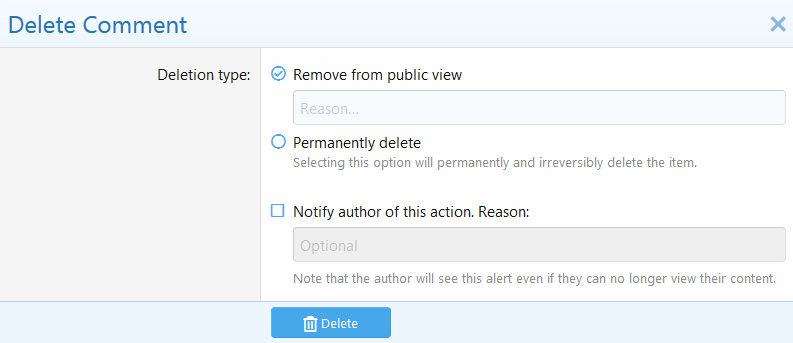 Enhanced comment editing. You have the option to edit the comment the same way as a regular reply with a "History" link too.
History and revisions for comments. After editing a comment also the "History" button will appear with the same functionality as for a regular reply.
Time limit on editing/deleting own comments. Please note that this permission works with the combination of permission "Edit own post/comment". If someone has the permission of editing any comment/post, then this permission will not take effect.
Approve/unapprove comments per forum. By default FCS add-on will allow comments in all forums. But with this feature, you can disallow posting comments for any forum you want on your website and for any user group.
Navigate to Forums -> Node Permissions (select any forum) -> Select a user group (for example Registered) and you disallow for this group in that forum to post comments.
NOTE
When you delete (using "Permanently delete") a reply with comments, also the comments will be deleted. When you delete (using "Remove from public view") a reply with comments, the comments will reappear again once you undelete the reply.
MANUAL