Does it support nested levels?
No. But it is possible to comment a comment. It works similar way as in the second level for Facebook comments. A comment will include the user's name you are commenting, plus (what Facebook doesn't have), the back button icon when clicked, will bring you to the commented comment.

I spent a lot of time and effort to make it look like this. This design is more practical, better use of space especially in responsive mode.
See these screenshots. In this screenshot (
here
) the video would be much smaller with nested levels and also the text would be much longer with a lot of empty/unused, wasted space.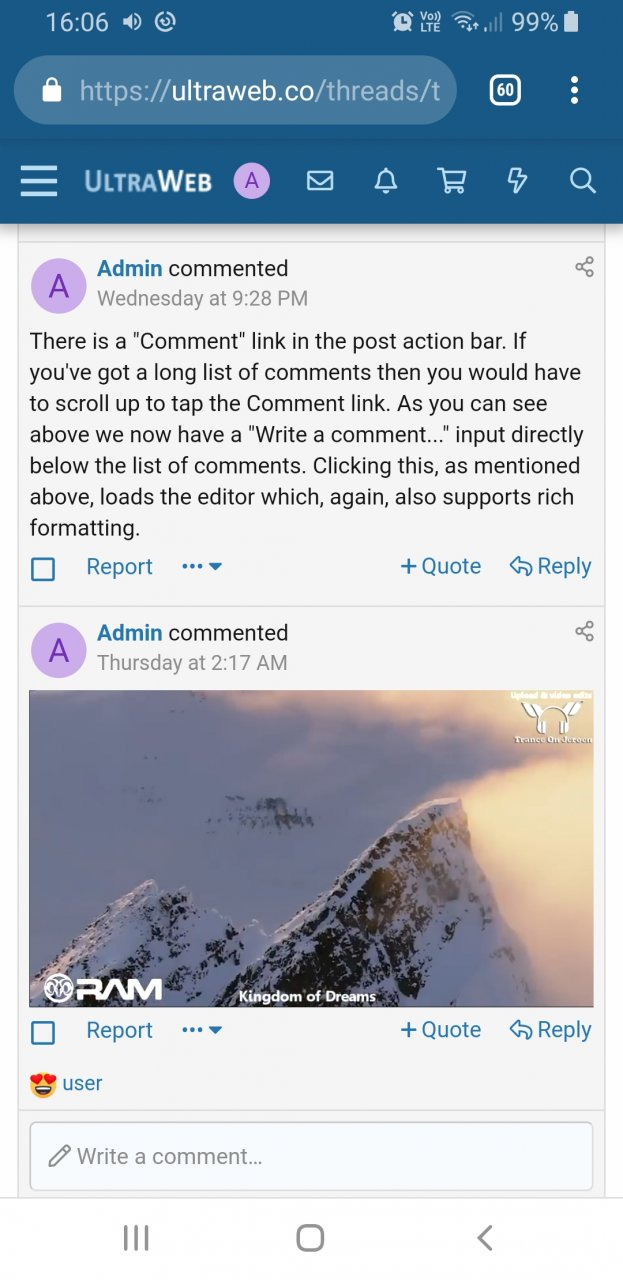 or: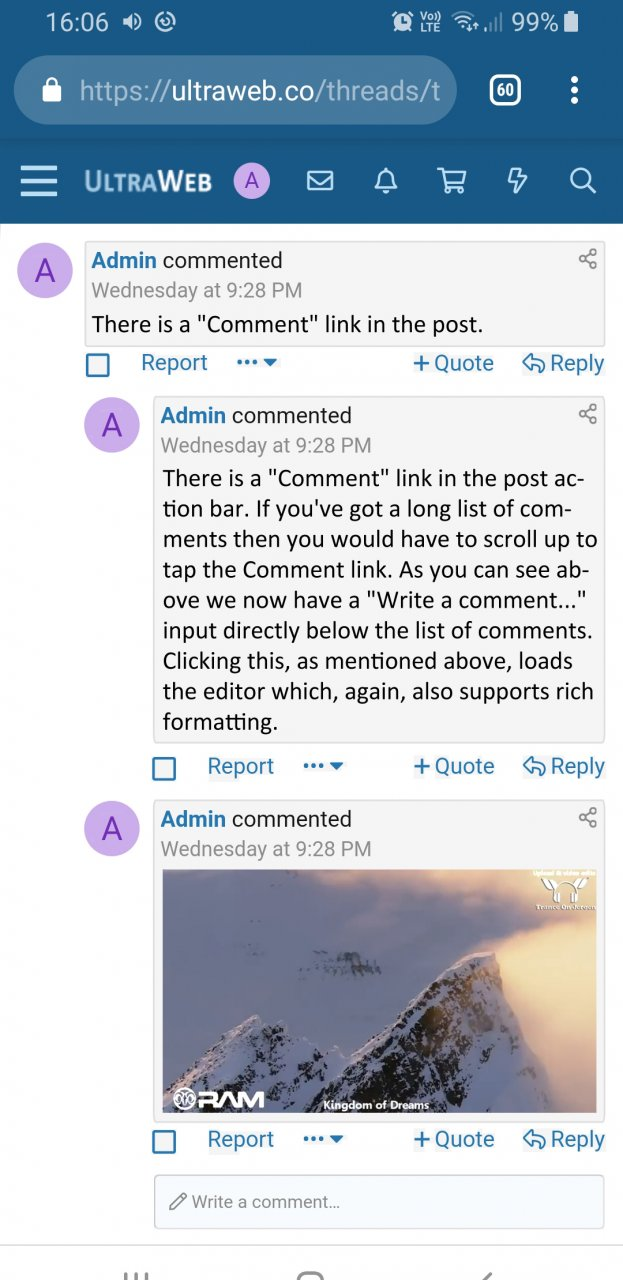 Is it possible to comment on the original post (OP)?
For the OP the reply is basically a comment, so no. Also because in this system, from a reply, you can make a new regular thread, where the reply becomes OP and all comments turns into regular replies.
Option per forum use?
By default FCS will allow comments in all forums of a website. But you can disallow posting comments for any forum you want on your website and for any user group.
Navigate to Forums -> Node Permissions (select any forum) -> Select a user group (for example
Registered
) and you disallow for this group in that forum to post comments.
Does it work in tapatalk, forumapp or any other programs or applications?
No add-ons will work with TapaTalk unless they add code to their service to allow them to work.
To get a better understanding. Are the comments still posts but displayed in a different way or the completely separate from normal posts (e.g. not stored in the posts database table). Thanks!
Comments are totally different thing. There are stored in a separate table.
What will happen once the add-on is uninstalled?
There are two options now:
a.
Default behavior. All the comments will be removed. If you want to keep the comments, but not allow other comments to be posted, just use permission settings to disallow comments.
b.
You can preserve the data by ticking the checkbox "Don't remove comments data" when the uninstall window pops up:

​
This way a comment will be converted into a reply with a quote of the reply under which the comment was posted.
In the old comment system from TH was a wonderful function to show the comment only to the owner of the commented thread. Do have this ugp also? If not is it possible to add this ugp and the xen/if for show/hide, please?
No. So far not planned.
Suggestions? Please write your suggestions with all the details to FCS Suggestions, will see what can be done about them.​
NOTE
From moved comments, converted to replies, commented comment link with the little arrow, will be removed.
NOTE
When uninstalling, commented comment link with the little arrow, will be removed in comments converted into replies.
Price?
Updated price list! Special
Promo Offer
to try this odd-on (valid
only
till the end of this month!) for only:
$19
.99
(regular price $38.99/year).
| | | | | |
| --- | --- | --- | --- | --- |
| | Regular price (US) | Promo Offer | On-time renewal - 50% off | Expired renewal - 25% off |
| 3 Months (valid only till the end of this month!): | $N/A | $19.99 | $10.00 | $14.99 |
| 1 Year: | $38.99 | $34.99 | $19.50 | $29.24 |
| Lifetime: | $129.00 | $75.99 | $38.00 | $56.99 |
NEXT